First, you need to clear your web browser cache. Most web browsers can store static content like stylesheets, JavaScript, images from a website to make your subsequent visits faster.
However, sometimes web browsers may fail to realize that a web page has changed. Instead of fetching a fresh copy, they may still reload the page from the cached version stored on your computer.
Here is how you will clean your browser cache in Google Chrome. First, you need to click on the menu icon and then select More Tools » Clear Browsing Data.
This will bring up a popup where you can select the content you want to remove. Make sure that cached images and files option is checked and then click on the 'Clear browsing data' button.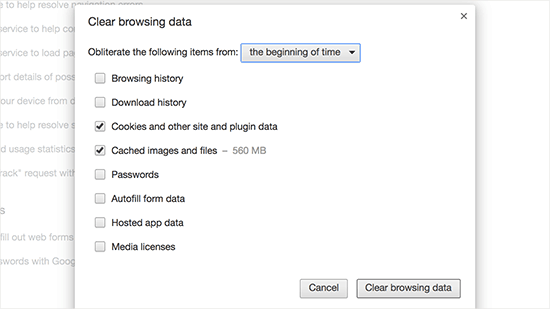 You have successfully cleared your browser cache, and you can now try visiting your website. For more details, see our guide on how to clear cache in all major browsers.
If you are still not seeing the changes you made, then move on to the next steps in this article.